The latest STIK-ITtm
High Speed Air Taping Head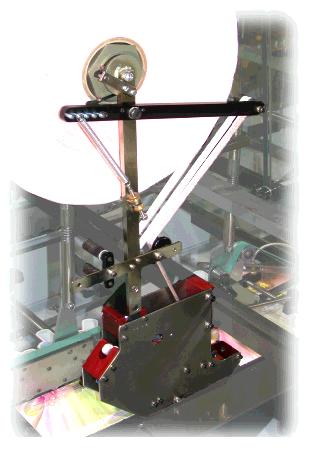 Features: (including but not limited to):
Precision machined 1/8" Stainless Steel Side Plates
No more enlarged pivot holes and mounting holes

25% Larger Precision Pivot Shafts

All shafts captured to eliminate wear

Higher Accuracy, Quieter, and Smoother
Fully adjustable STIK-ITtm Tape Unwind with Brake Action
Tape reel over run controlled with positive break action.

No more snapped liners at high speeds

Positive tape guides

Easily aligned for smooth introduction to tape

Run Double Coated & Transfer Tapes with adhesive wound IN or OUT
Improved Taping Shoe and Knife Action
Precision/Positive Non-Stik Tape Checking System

Dramatically reduces wear and failure

1/2" Stroke piston for increased production and accuracy
Improved Laminating Rollers
View video of
STIK-ITtm High Speed Air Heads in operation
Testimonials Available on request
Systems for the application of Tear Strip also available
Call Tape Service, Ltd. today and let the experts show you how the STIK-ITtm
Air Taping Head Systems
will do all the above and more!
Decades of Proven Success!
Call or Fax us today to have one of our taping
specialist working with you on your job right now!

Tape Service, Ltd.
Phone: (909) 627-8811
Fax: (909) 627-8817
1-800-999-STIK-IT
(Outside California)